Out of all of the Holidays in the year, I think that Valentines Day is the worst holiday of all. You might be reading this and thinking I am either cynical or I am single. The truth is, I am neither of those things. I love having a reason to celebrate so holidays are naturally a great thing in my eyes. And I am dating the nicest boy in the whole world. So valentines day should be a holiday that I swoon over... But it isn't.
I guess I don't like valentines day because it is extremely commercial and I don't like people complaining about "single awareness day." But most of all, I don't like valentines day because I think if you really love someone, you don't need a holiday to tell them that. If you love someone, every day should feel like valentines day. Maybe I am naive and lucky in love, but to me Valentines day seems like a waste of a holiday. Presidents day is much better, at least we don't have school...
This year, I did end up celebrating but I was a week late for the official holiday. Ryan was busy Valentines Day weekend so we decided to postpone it. After we made that decision, I made a silly decision... I decided that this year whatever we gave each other had to be homemade (at least this way I wouldn't end up giving him a cheesy stuffed animal or a box of chocolates or any of the other gifts on the valentines day aisle at Target ).. This homemade Idea may have been my WORST IDEA EVER..
Of course Ryan had mine finished weeks before and I hadn't even figured out what to make him up until a few days before. The only thing that I had thought of was making him a homemade dinner, but my big mouth opened up and I suggested that we do this as a date... So once again, I was left with no idea.
Don't worry, everything worked out.
Maybe helped me make Ryan's present.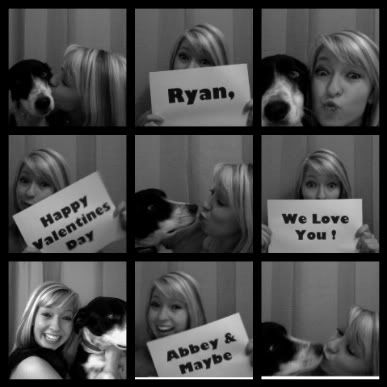 And then Ryan came over and we made the yummiest dinner EVER!
We had Caesar Salad, Breadsticks, Rice Pilaf, Stuffed chicken breast, Asparagus.
And For Dessert... (drumroll please)...
MOLTEN CHOCOLATE LAVA CAKE
INCREDIBLE!!!!
Ok... so i made it a few times last weekend...
It was a pretty great Valentines Day. We ended up eating dinner with not just each other, but my family. It was a great time. And i'm so happy that they were there to celebrate it too! Valentines day should be for everyone you love! :)
Thanks for the wonderful present Ryan. I Love it (i'll post pictures once i get it hung up in my room). I love you. Thanks for having a late Valentines Day with me, and my family!